Pacific Horizon SAM motorhomes are most suitable for up to 6 adults, or for 2 adults plus up to 4 children.
Step into a SAM and you are stepping into motorhomes that lead the industry with a combination of innovative design and technology.
You'll be impressed by the superb quality and finishing that makes the SAM superior to other 6-berth motorhomes. Delve deeper and the benefits go beyond mere looks.
Why Should you Choose a Sam 6 Person Motorhome
There's something captivating about the open road and the sense of adventure that comes with it. Choosing a SAM 6 person motorhome from Pacific Horizon offers you the perfect blend of freedom, comfort, and flexibility on your journey across New Zealand. Our unique SAM motorhome is renowned for their blend of functionality and luxury, providing everything you need for an exceptional travel experience, our SAM 6 person motorhome is designed with your utmost comfort in mind.
At Pacific Horizon, we believe that travel should be about making unforgettable memories, and our SAM motorhome gives you the means to do just that,  you can always count on your SAM motorhome to provide a comforting retreat at the end of each day. Trust Pacific Horizon with your travel needs and embrace the opportunity to explore New Zealand in one of our incredible SAM 6 Person motorhomes.
Pacific Horizon SAM Motorhomes
SAM Motorhomes Specifications
Vehicle
Mercedes Benz 2.2 ltr turbo

Diesel powered - Tank capacity: 75 litres - Efficiency: Approx 13 litres per 100kms

5 stage tiptronic automatic transmission

ABS and 4-wheel disc brakes

Dual rear wheels & rear wheel drive

Roof mounted solar panels

Large outside storage lockers

USB/AUX input to stereo & Bluetooth (cab)

Alarm & vehicle immobiliser
Seating
Forward-facing rear passenger seats, with full lap/diagonal safety belts

Driver and front passenger seats swivel 180degrees

Driver and front passenger airbags

3x child seat tether points
Living Area Features
Waste water capacity 130ltr

3-way, 90ltr Fridge/Freezer (12 volt / 240 volt / gas)

Gas stove top - 3 burner, 1 Hot plate & Grill

Removable tables (front & rear)

Thermostatically controlled diesel heater/cooler (can be used while travelling)

Electric water pump for hot and cold water

Hot water (240 volt / Gas)

Electric water pump for hot and cold water

2x 4.5kg Gas bottles (supplied full at pick-up)

Interior shower / toilet with electric flush

Digital monitor/DVD/USB & HDMI input

Stereo/Radio & 2x USB ports (rear)

In-vehicle WiFi (Premium model only)
Dimensions (metres)
King bed rear lower 2.20m x 1.60m OR Single beds rear 1.60m x 0.70m

Queen bed front upper (above driver's cab) 2.10m x 1.40m

King bed rear upper 2.20m x 1.45m
Additional Equipment
To be booked at time of reservation and subject to availability
Baby seat / Booster seat (3 sizes) - $50

Bike rack (max 2 bikes) - $150

Unlimited In-vehicle WiFi - Premium models only- $5 per day (minimum $50)

Additional Linen Set - $40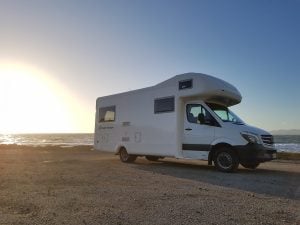 Pacific Horizon SAM motorhomes are most suitable for up to 6 adults, or for 2 adults plus up to 4 children. Step into a SAM
Read More »